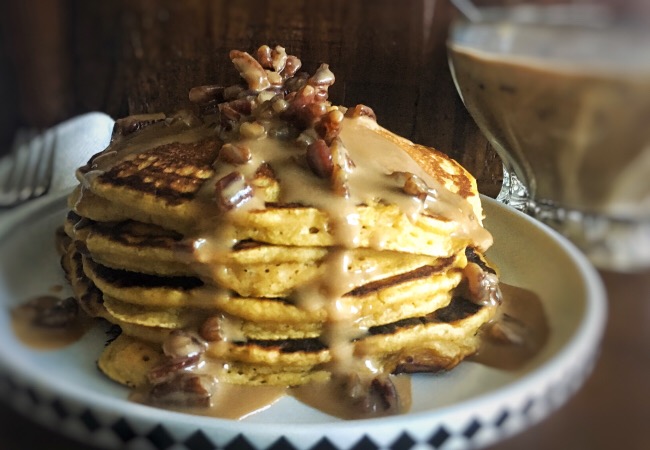 Fluffy pumpkin pancakes, yes! Guys, we still have about two more months of the pumpkin craze--since it takes until after Christmas to get out of our systems. Growing up, pancakes was not really a thing for breakfast. It was heavy doses of creamy grits with a lot of butter. "Hard" fried eggs or scambled eggs with plenty of chopped green onions. Those yummy Louisiana hot links, not Pattons, but the ones from the grocery store round the corner made.
I am not saying we never made pancakes. Busting out the Bisquick and tossing a few eggs and milk up in there, oh, and taking it up a notch with some vanilla extract. Yea, we were fancy then. Pouring over some Aunt Jemima syrup!
When I  found out I loved to cook, I went down to Commander's Palace in Uptown Nola to get a little part time job and worked a night in the kitchen. That. Night. Changed. My. Life. I must say, I drove my parents mad since everything had to be made from scratch. Oh, and the line, "let's go to the farmers market." But digging around, I found that cooking and working in restaurants was in my genes. It was a matter of time until I found my passion.
But, getting back to these pancakes...I love how trends influence what will be made and seasonal produce inspiring everyone. Right now it is all about pumpkin mania and I am jumping on the bandwagon; again, because in all honesty, it only comes around 3 months out of the year. It is sorta like crawfish season. You eat until you can't anymore, but you still want to get another few pounds because you know the season will be done with soon. These pancakes are fluffy due to separating the egg whites from the yolks and whipping them up until soft peaks form. After that, they are folded into the batter. I made pancakes like this before and was surprised at how airy and fluffy they were. I love this technique!
I opted to buy canned pumpkin, there are great brands out there with agood product. A little bit of pumpkin pie spice, milk, brown sugar, vanilla, eggs and bam! ( In my emeril voice) you have some great tasting pumpkin pancakes. The praline sauce  is a treat and can be used for ice cream or some bread pudding in the near future--if making it for bread pudding, add a few splashes of whiskey ;)
Fluffy Pumpkin Pancakes
1 1/2 cup all purpose flour
1 teaspoon kosher salt
2 teaspoons baking powder
1/2 teaspoon vanilla extract
1/2 teaspoon ground cinnamon
1/2 teaspoon ground nutmeg
4 tablespoons brown sugar
1 1/2 cup milk
2 eggs seperated
1 cup pumpkin puree
4 tablespoons melted butter
Whisk flour, salt, baking powder, vanilla, spices, and brown sugar in a bowl place aside.
In a seperate bowl, whisk together the milk, pumpkin, melted butter and egg yolks.
Fold the wet ingredients into the dry mixture.
in another bowl, beat the egg whites until soft peaks form. Fold the mixture into your batter
Spray or grease a skillet over medium heat and pour in 1/4 cup of batter for each pancake.
Cook pancakes for about 3 minutes each side. Enjoy!